Our garage door service is Friendly, Affordable, & Reliable
If you live in the Ogden, Utah, area and have garage door problems, we can help. No matter whether you have a cosmetic problem like a dents, severe damage, or normal wear and tear that interferes with your garage door's operation, Beacon Garage Doors Repair is ready to serve you. No matter what make, model, brand, or size your garage door is, we can repair it, even if it is odd-shaped. We can find even the most obscure parts you need.
Garage Doors Repair Ogden, UT
Competitive pricing – Low cost.

We guarantee all of our services, please ask us about them.

You can trust our craftsmanship to be of the highest quality.




We pride ourselves on the quality of our work, and we are confident that you will not find a better service anywhere else.
Weber, Davis County, and Surrounding Areas – Beacon Garage Doors. Need a garage door repaired, replaced, or installed? Call the experts at the Beacon for garage door repair services in Weber, Davis County, and surrounding areas. At Beacon Garage Doors, all your garage door problems will vanish with our expertise. Garage doors are a significant exit and entrance into your home, so it is paramount that they are highly secure whether you are present or absent. With Beacon Garage Doors, we go beyond the ordinary in an effort to deliver extraordinary results. For gate door service in Weber, Davis County & Surrounding Areas, Utah, we are your best choice. We provide strong and reliable residential and commercial garage door services in Weber, Davis County, and the surrounding area. Our technicians have the experience to get your job done quickly, done right, and done with a smile. Whether you're looking for a new installation or just need a broken spring repaired, we have what you need.
Beacon Garage Doors - garage doors repair near you
A complete garage door repair service
Inspections of garage doors for safety
Repair and replacement of broken springs
Repair and replacement of garage door openers
Replacement of garage door rollers
Tune-up for garage doors
Repair and replacement of panels
Repair and replacement of tracks
Provide complete garage door repair and replacement services
Replacement of garage door cables
Repair of garage door opener remotes
Keypads with wireless connectivity
Preventative maintenance
Repair of commercial garage doors
Repair of gates
If you suspect something is wrong with your garage door and you've been hearing noisy cranking, difficulty opening or closing, the door getting stuck but it opens after a few tugs, then call our emergency service. We'll send a technician near to you to fix the problem or ensure safety if it's not an urgent need. If we aren't able to resolve the situation the same day, we'll call the next day and do our best to find a time that works for both parties.
Whether at home or at the office, Beacon Garage Door emergency services are on the road to keep Utah safe.

garage doors installation Ogden, Utah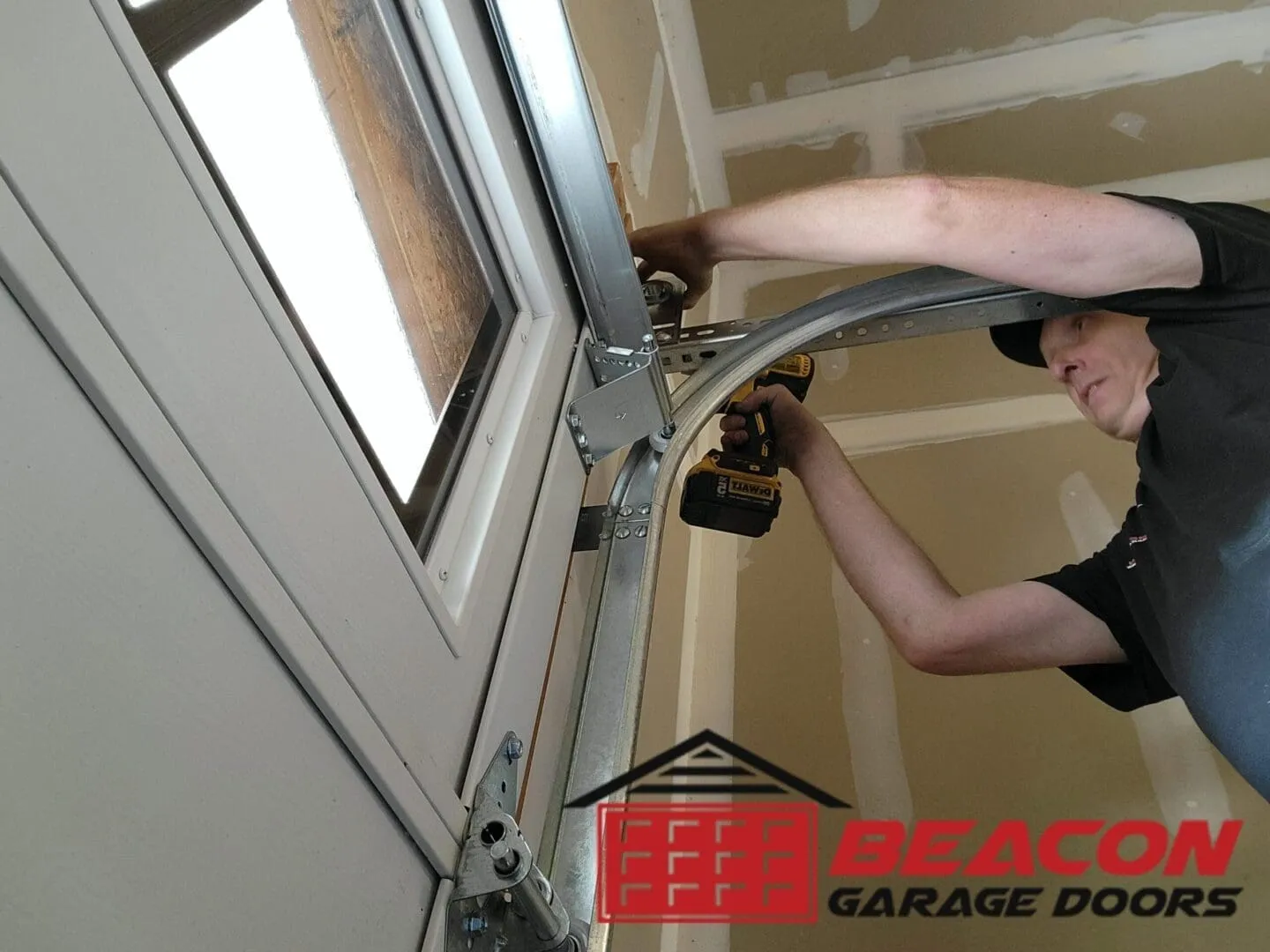 Garage Doors Repair Ogden, UT
A broken spring is the primary component of your garage door. If your garage suddenly stops opening or jams, then a broken spring is to blame. If the garage door is hard to open or lopsided, the spring is to blame. Beacon Garage Doors can help you prevent further damage to your garage door or injury to your loved ones.

Torsion springs and extension springs are two types of garage door springs. An extension spring is a vertical spring that runs parallel to the door track. A tension vibrates through them every time you open or close the door, causing them to weaken over time. When the spring is continuously opened and closed, it snaps.

During opening or closing, torque springs create a torque force by being thicker and located above the door.
Garage Doors Spring Repair Ogden, UT
A broken spring can be replaced by simply removing the old one and replacing it with a new one. It is a good idea to not replace the faulty spring alone. Any good garage service technician knows better than to do one side alone. With Beacon Garage Doors, we can replace both springs so you won't have to call us if the other spring breaks. The job to replace a broken spring usually takes 45 to 90 minutes, and we'll do it silently.

Protect your home or office by installing a new garage door. Our local experts will educate you on the many options that are available and help you choose the perfect garage door for your property. We'll measure and purchase the door, as well as install it and make any adjustments necessary to ensure it fits properly. If you need us to remove your old garage door, we'll do so without damage to your property. With our expertise and experience, you can be certain that your new garage door will be installed quickly before long!
Repair & service are our specialties at Beacon Garage Doors Ogden, Utah:
Having a new garage door is the right investment. Garage doors are heavier, stronger, and more secure so that they cannot be easily broken into. It means that your family, property, and business are safe as well. Regardless of whether you live in the home or are planning to sell it, it is always best to choose the best garage door and the best team when installing a new one. So what are you waiting for? Contact Beacon Garage Doors at (385) 393-8909 today.
Did you know the garage door is the scale of building in the home and the largest mechanical object, too? That's why it deserves a dependable, efficient opener. Addressing not just weather-related issues, but mechanical ones as well, the opener needs to be a high-quality one that can lift and close without impediments. If your garage door opener needs installing, repairing, or replacing – give Beacon Garage Doors Weber, Davis County & Surrounding areas (323) 991-8727 a call. We have a team to install any such device perfect for you needs!
Beacon Garage Doors - garage door springs repair
Why Choose Us: We offer a wide selection of garage door openers from premium brands that offer exceptional performance, durability, and durability. All models have been duly accredited and tested to ensure they fit and function according to your garage door. They are quiet and easy to operate either manually or remotely. Would you like more information about installing, replacing, or repairing your garage door?
Having an off-track garage door and in need of professional assistance? Don't worry. We have the answer in your backyard. Call us today at 385-393-8909. You may be tempted to fix an off-track garage door yourself when it becomes off track, but please don't. You should never attempt to fix an off-track garage door without the assistance of a professional. When the garage door is off-track, it means the cable is broken or the path is blocked.
We will have a professional garage door service team on your property within an hour to fix the problem.
Several reasons may cause a garage door to come off its track, but we will discuss two of the most common ones here. The first is a damaged or broken cable. The cable carries the bulk of your garage door's weight. Although the cable has been designed to last, wear and tear creates weaknesses.
It is also possible to shift the garage door off track if a heavy object hits it. For example, if it is close to a basketball court, you can slam it into it if it is not opened properly. If you drive into the garage door, it will go off track. It does not matter what the reason is, we will help you get the door back on track in no time. It doesn't matter how severe the damage was; Beacon Garage Doors can fix it.
Get your garage door back on track with the help of our team. Call 385-393-8909 for all your garage door questions.
We'll help find the right garage door solution for your residential or commercial space, and installers have extensive knowledge of different hardware, so they can solve most any issue you may encounter. Best of all, commissioners can be assured that we're committed to providing only the best customer care service possible. On top of that, each job is better than the last because safety is our biggest priority-we want you to be satisfied and safe with our work.
We are available 24/7 so that you can reach us day or night. Our employees consist of a team that is professionally trained and equipped to handle any type of garage-door issue no matter how large, heavy, or remote. We have the experience and expertise to confidently take on any residential issue with your current door. Beacon Garage Doors has transparent pricing and is always ready to work within your budget, which means there is no sacrifice on quality work – only the best for you. Our goal is to be a service provider from which you can trust in honesty, transparency, reliability, and an understanding ear for every person at your premises with an invitation for them to participate in our open dialogue about what will benefit your business the most. Get a professionally trained technician to fix your garage door today!
Beacon Garage Doors Service Areas
Beacon Garage Doors Ogden, UT offers repair, maintenance, and installation service. Weber, Davis County & Surrounding areas. With same day service, we mean we will arrive at your location the same day and fix your problem immediately. At Beacon Garage Door, we have professionally trained technicians with fully stocked trucks, so we have the parts on hand to get it done right. You don't have to wait on a waiting list or waste time waiting for a repair to be completed.