Garage Doors Washington Terrace
UTAH'S TOP GARAGE REPAIR Washington Terrace
Garage doors are a necessary part of any home in Washington terrace. They provide security and privacy for your family and possessions, and can be a great addition to the curb appeal of your home. When choosing a garage door, there are many things to consider such as style, material, insulation, and price. At Beacon Garage Doors, we specialize in installing quality garage doors that meet your needs and exceed your expectations. Whether you need an automatic or manual door, we have the perfect solution for you. Read on to learn more about our services and why we're the best choice for all of your garage door needs in Washington terrace UT.
*Limit one per customer. Cannot be combined with other offers.
(Expires 30 days from date of email.)
*Limit one per customer. Cannot be combined with other offers.
(Expires 30 days from date of email.)
Garage Doors Repair Washington Terrace, Utah
If your garage door isn't working properly, it can be a major annoyance. Not only is it an eyesore, but it can also be a safety hazard. If you're having trouble with your garage door, there are a few things you can do to try to fix the problem yourself. However, if the problem persists, it's best to call a professional for help.

One of the most common problems with garage doors is that the opener doesn't work. If this is the case, you may need to replace the batteries in your remote control. You should also check to see if the sensors on the door are clean and free of debris. If they're not, they may need to be replaced as well.

Another common issue is that the springs in the garage door may need to be replaced. This is because they can wear out over time and stop working properly. It's best to call a professional if you think this might be the case.

If your garage door isn't opening or closing all the way, there could be an issue with the tracks. Sometimes dirt and debris can build up on them and cause them to become blocked. In this case, you'll need to have them cleaned or replaced by a professional.

If you've tried all of these things and your garage door still isn't working properly, it's time to call a professional for help. They'll be able to diagnose the problem and get your door working like new again in
Beacon Garage Doors - garage doors repair near you
Our company provides a wide range of great and excellent Garage Doors services, including:
Among the services offered by Beacon Garage Doors specialists are:
Examine door sections, counterbalance system, track, rollers, hinges, and outer weather seals
Make sure hinges, springs, and rollers are lubricated
Make sure all bolts and screws are tight
Adjust the spring tension and rebalance the door
Adjustment of the traveling garage door opener trek and safety arrangements
Garage door opener gear, sprocket, and chain lubrication
Pressure adjustment for garage door openers
Electronic eyes of garage door openers aligned
Spring repair
Drum repair
Roller repair
Defective panel components need to be repaired
Any part that needs to be repaired
Any parts that need replacing
Utah residents: It's time to replace your garage door torsion springs! These essential components assist with the opening of the door, storing potential energy in the springs as they wind up. The average lifespan for a standard spring is 5-7 years or 10,000 cycles. However, if these are not replaced when expected, the garage door may malfunction or worse, cause an accident. To be safe and secure, contacts us for a replacement with new long-lasting 40,000-cycle torsion springs! Our professionals have the tools and knowledge to perform this repair quickly and correctly.
If you're seeking out the best price for Garage Doors, we are the company to call. Our experienced garage repair personnel can be found in Washington terrace, Utah and offer reliable service at a competitive rate. We have technicians that are trained on any brand of garage door, including Liftmaster, Wayne Door, Overhead Door, General Doors, Haas Door, AMARR and CHI Overhead Doors. No matter if it's a fresh install or fixing up an existing problem; our team will take care of it quickly and efficiently.
Whether at home or at the office, Beacon Garage Door emergency services are on the road to keep Utah safe.

garage doors installation Washington terrace Utah
When it comes to garage door installation in Washington terrace UT, there are a few things to keep in mind. First, you'll need to decide which type of garage door is right for your home or business. There are three main types of garage doors: roll-up, sectional, and side-hinged. Each has its own benefits and drawbacks, so it's important to choose the one that best suits your needs. There are a few things to keep in mind when installing garage doors in Washington Terrace. The first is to make sure that the door is the correct size for the opening. The second is to make sure that the tracks are level and plumb. Third, it is important to install the springs and cables correctly. Lastly, be sure to check all of the nuts and bolts for tightness before operating the door.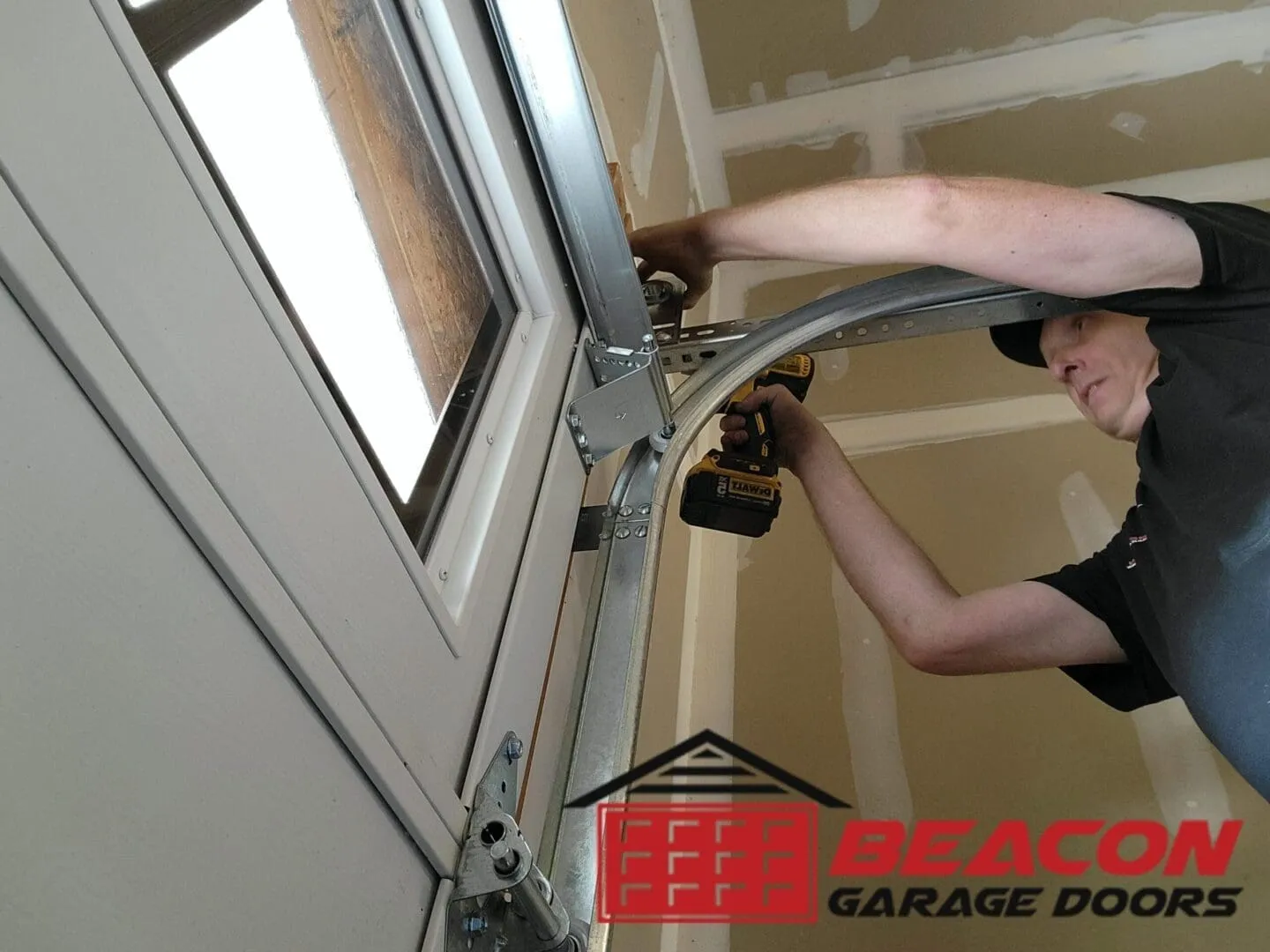 Garage Doors Repair Washington terrace UT
If your garage door opener is giving you trouble, don't despair! Beacon Garage Doors Opener Repair Washington terrace UT is here to help. We specialize in repairing all types of garage door openers, so we can get your door working again in no time.

We understand that a broken garage door opener can be a real pain, so we offer same-day service in most cases. We'll come to your home or business and diagnose the problem, then give you a free estimate for the repair. We only use the highest quality parts and our experienced technicians will make sure your opener is repaired correctly the first time. For fast, reliable garage door opener repair in Washington terrace UT, call Beacon Garage Doors - Garage Door Opener Repair Washington terrace UT today!
Garage Doors Spring Repair Washington terrace UT
If your garage door isn't functioning properly, it may be due to a problem with the springs. At Garage Doors Washington Terrace, we can repair or replace your damaged springs so that your door will work like new again. There are two types of garage door springs - torsion springs and extension springs. Torsion springs are located above the door, while extension springs are located on either side of the door. If your door is not opening or closing properly, it's likely that one of these springs is damaged.

We will first assess the damage to determine whether the spring can be repaired or if it needs to be replaced. We only use high-quality replacement parts, so you can be sure that your repaired or replaced garage door spring will last for many years to come.
Repair & service are our specialties at Beacon Garage Doors Washington terrace, Utah
Beacon Garage Doors is a specialist in garage door repair, maintenance, and installation. They serve Weber, Davis County, and the surrounding areas. They are a professional company that takes pride in their work. They offer a variety of services to meet your needs and ensure that your garage door is working properly.
Beacon Garage Doors - garage door springs repair
Why Choose Us: We offer a wide selection of garage door openers from premium brands that offer exceptional performance, durability, and durability. All models have been duly accredited and tested to ensure they fit and function according to your garage door. They are quiet and easy to operate either manually or remotely. Would you like more information about installing, replacing, or repairing your garage door?
Having an off-track garage door and in need of professional assistance? Don't worry. We have the answer in your backyard. Call us today at 385-393-8909. You may be tempted to fix an off-track garage door yourself when it becomes off track, but please don't. You should never attempt to fix an off-track garage door without the assistance of a professional. When the garage door is off-track, it means the cable is broken or the path is blocked.
Several reasons may cause a garage door to come off its track, but we will discuss two of the most common ones here. The first is a damaged or broken cable. The cable carries the bulk of your garage door's weight. Although the cable has been designed to last, wear and tear creates weaknesses.
Commercial Garage Door Repair Washington terrace UT
If you are in need of a new garage door for your business in Washington terrace, there are a few things to keep in mind. Commercial garage doors are different than residential ones in a few key ways. First, they are generally much larger. This is to accommodate the size of commercial vehicles like delivery trucks and buses. Second, they often have special features like roll-up doors or sectional doors that make them more convenient for businesses. Finally, they must be able to withstand heavy usage and be made of materials that can stand up to the elements. When it comes time to choose a new commercial garage door, there are many options available. You can work with Beacon Garage Doors, a local garage door company to find something that meets your specific needs. Get a professionally trained technician to fix your garage door today!
Beacon Garage Doors Service Areas
Beacon Garage Doors Washington terrace, UT offers repair, maintenance, and installation service. Weber, Davis County & Surrounding areas. With same day service, we mean we will arrive at your location the same day and fix your problem immediately. At Beacon Garage Door, we have professionally trained technicians with fully stocked trucks, so we have the parts on hand to get it done right. You don't have to wait on a waiting list or waste time waiting for a repair to be completed.